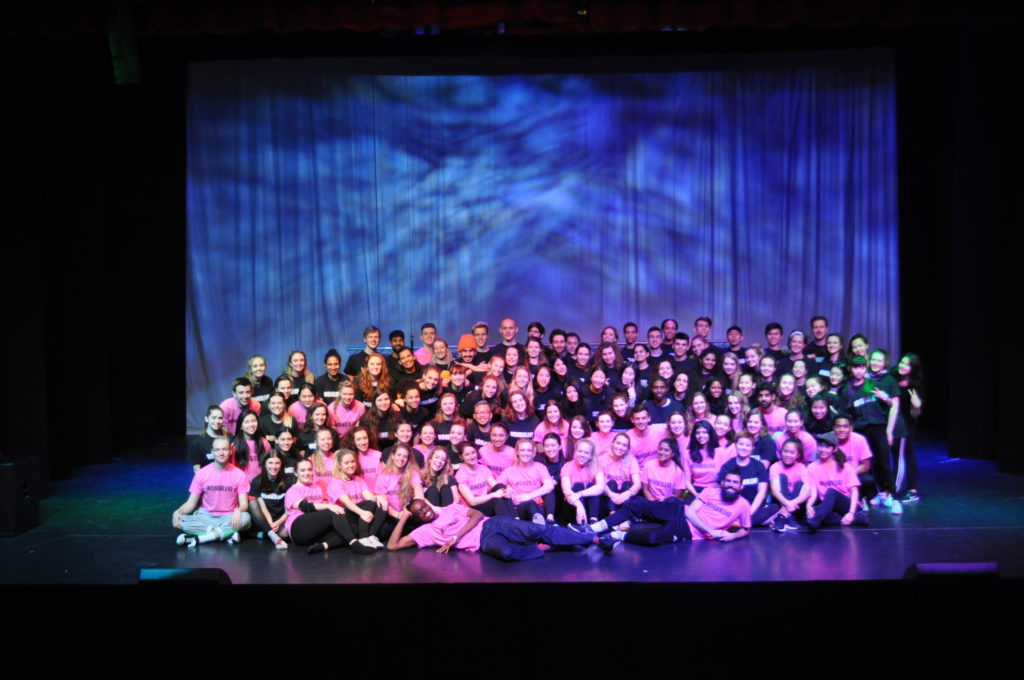 Check out our official photos HERE! Massive thank you to Saj Khan for taking these!
Our annual showcase in 2017 was Wonderland! We performed for 3 nights on Greenwood Stage, from Wednesday 22nd – Friday 24th March.
Thanks to your help, we managed to raise a MASSIVE £7169.40 for our amazing charities I Can Dance, Parkinson's Can Dance and the Robes Project – all London based charities who do some truly amazing work!
You may or may not know the drill, but 3 shows always means 3 afterparties!
Of course Wednesday was a classic Dance Soc trip to WALKABOUT – complete with show finale tshirts and tube selfie!
Thursday meant GUY'S BAR – need I say anymore? And whilst some of us may have been struggling from the night before, we brought out all our friends for a chilled drink (or 7) after the show!
Friday brought our final afterparty at AMBER BAR – the after show party to end all after show parties! After a VERY emotional last show, we ended the week with a bang at this fancy shmancy 70's groovy wonderland, and celebrated in true style. 
#DareToEnter
Check out our amazing promo videos: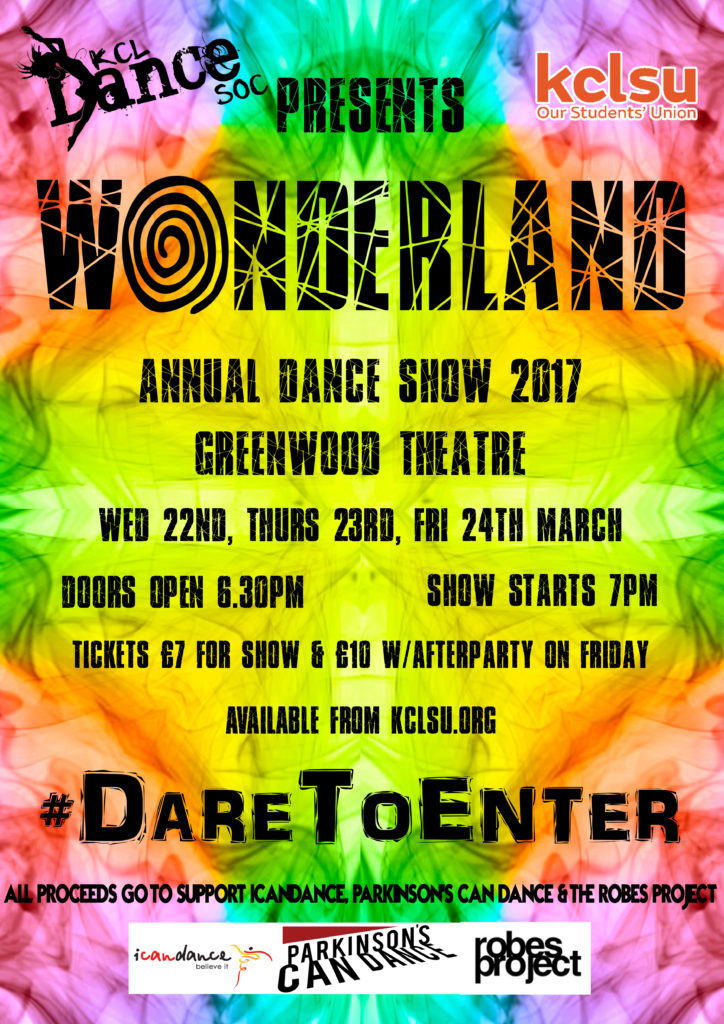 Running Order
ACT 1
1. Amy – Jazz
2. Aparnaa – Belly Dance
3. Asha – Lyrical
4. Natasha & Carlotta – Bachata
5. Grace – Ballet
6. Marcus – Jazz/Gaga
7. Kiera – Commercial Jazz
8. Max – Contemporary
9. Michael & Millie – Swing Tap
10. Han – Breakin'
11. Daisy – Jazz/Contemporary
12. Jen – Latin 
13. Nikki – Tap
14. Karman & Malcolm – Contemporary Hip Hop
INTERVAL
ACT 2
1. Alex – Musical Theatre
2. Dorothy & Beatrice – Burlesque
3. Beth – Contemporary
4. Piyal – Salsa & Breakin'
5. Jake – Musical Theatre Jazz
6. Ishbel – Contemporary
7. Penny – Tap
8. Britt & Elias – Salsa/Rueda
9. Fran & Izzy – Jazz
10. Helen – Ballet
11. Georgia – Contemporary
12. Holly – Swing
13. Jocelyn & Sofia – Commercial
FINALE