KCL Dance Society present their annual dance showcase, London Calling.
On the 16th, 17th and 18th March, 150 dance society members put on 3 amazing shows. This years theme was 'London Calling' and included based around homelessness, Nottinghill Carnival, the morning commute, Jack the Ripper and James Bond- just to name a few.
The show was a huge success, selling over 1000 tickets and making an amazing £7616 for 3 chosen charities. We were even lucky enough to have an onstage marriage proposal as two of our Dance Soc members got engaged! We have received overwhelmingly positive feedback and would like to thank all of the helpers, cast, crew and our sponsors for all of their help in the past few weeks!
Each show was followed by an after party which were all hugely successful. The Friday night party at Pause Bar was a great night, and all of our amazing cast and crew members enjoyed a drink and a dance to celebrate the end of an amazing week.
All of our cast members should be extremely proud of themselves, they were all amazing!
Take a look at all of our photographs from the week:
Show photos: CLICK HERE 
After show party photos: CLICK HERE
Charities:
Southwark Children's Brass Band 
Southwark Children's Brass Band provides weekly music tuition and training in brass instruments for around 50 children, aged 7 to 14, from the London Borough of Southwark, and the wider area, from all backgrounds. We encourage children to enjoy the challenges of making music, by learning on their own as well as learning and playing as a group, giving them self esteem, self discipline and confidence that will be with them for the rest of their lives.
Parkinson's Can Dance 
Parkinson's Can Dance offers weekly dance classes for individuals with Parkinson's Disease at the BalletBoyz dance studio. In the sessions participants can explore and enjoy dance and live music in a supportive and creative environment. The programme is led by Rebecca Trevitt, who was a dancer with The Royal Ballet and now specialises in educational and vocational dance.
icandance 
icandance offers dance and performance opportunities to children and young people with disabilities. We believe that everyone should be given the opportunity to perform and express themselves. The dancers are provided with a skilled one to one worker, who make the dance experience accessible for each young person regardless of their level of disability. At icandance we focus on what our dancers can do and not on what they can't. The highlight of the year is our annual performance where the dancers are able to dress up in costumes, perform for their families and be celebrated for who they are. Dance gives them a voice and icandance helps them to share their voice with all.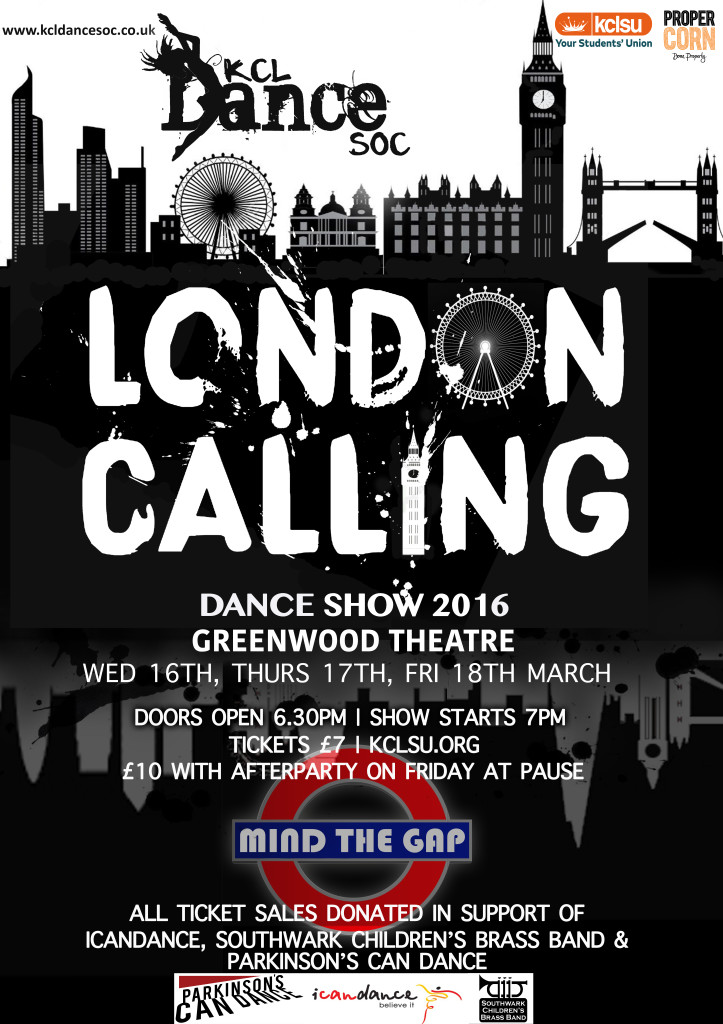 London Calling Running Order:
ACT 1
1. Katie/Sophie – Jazz/Contemporary
2. Dan – Hip Hop
3. Ellen – Tap
4. Piyal – Salsa
5. Max – Contemporary
6. Catherine – Burlesque/Jazz
7. Alex/Nina – Bachata
8. Delphine – Lyrical Jazz
9. Ethan/Helen – Breaking and Ballet
10. Jeff/Holly – Swing
11. Josh/Jennifer – Street
12. Asha – Musical Theatre
ACT 2
1. Alex – Jazz
2. Mariya/Lilia – Ladies Styling
3. Megan – Tap
4. Aparnaa – Bellydance
5. Rheanne – Contemporary
6. Karman/Alex/Ethan – Breaking
7. Olivia – Tap
8. Cherie/Margarita – Ballet
9. Beth – Contemporary
10. Rein/Karen – Hip Hop
11. Georgia – Jazz
12. Alisa – Brazilian Samba
13. Ashton – Commercial