The Director's Cut 2014
Lights. Camera. Action!!!
KCL Dance Soc presented "THE DIRECTOR'S CUT" on the19th, 20th and 21st March, 2014.
From the glitz of mainstream Hollywood to the darkest cult Indie films, TV series to music videos, even comics and books – we present a variety of styles from ballet to bellydance, hip hop to salsa and everything in between!
With a cast of over 150 performers, it was a  jam-packed, spectacular evening.
We were also excited to announce that ALL ticket sales were donated to the Manna Society charity!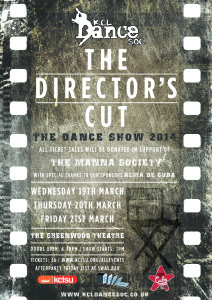 <Act 1>
Mara's Hairspray Jazz
Aparnaa's Belly Dance " The Director's Temptation"
Katie's Contemporary " Brief Encounter"
Alex's Hip Hop "Under Pressure"
Michelle's Ballet "Center Stage"
Piyal & Sharmin's Salsa "Cuban Fury"
Robyn & Connie's Tap "Behind the Scenes"
Mariyam's Bollywood "Bollywood Paparazzi"
Yvonne's Contemporary "Perfect Sense"
Charlotte's Jazz (Title TBC)
Aaron's Bachata " Looking Back"
BreakinKCL "The Hero Is Us All"
Maaria's Jazz/Contemporary "Dance Apocalypse"
Stephen's Hip Hop "Oz"
<Act 2>
Nathalie's Jazz "Jet Set"
Laura's Burlesque
Jeph & Dolly's Contemporary "Jeph's Black Swan"
Jeff's Swing "The Swing-Off"
Kana & Ethan's Ballet/Breakin "Beauty and the 'Beast' (Title still TBC)"
Kiki's Hip Hop "Avatar <Story of Change>"
Zara's Ballet/Contemporary  "Audition Cut"
Rheanne's tap "Roxanne"
Louis's Hip Hop (Title TBC)
Mara's Contemporary
Dan & Sanj's "BreakingBad"
Emma and Ovgu's Salsa Girls
Ellen's Jazz "Nyaminyami"
Check out all the official photos on our facebook page https://www.facebook.com/media/set/?set=a.651253234941397.1073741844.497977300268992&type=3