KCL DanceSoc Charity 2012-13
We had indeed one of the most successful years on the history of KCL DanceSoc!
Christmas Charity showcase (December 2012) raised £478.99 for Project Zimbabwe, which was one of the main charities that we were supporting for last year.The audience enjoyed the fantastic performance by KCL DanceSoc Fusion, Breakin'KCL, King's Musical Theatre, MedSoc Musical Theatre, King's Chick, Ms.Sophie Strong (Singer, Medic student) over endless mince pies and mulled wine!
For another main charity that we supported, Manna Society, we raised £551.45 in total through various charity workshops and I Love Dance t-shirt sales. We also organized a joint event of cloth collection in Boland House, where people could bring clothes that they did not need any more, and could buy homemade cupcakes and enjoy salsa corner! It was again another very successful event, and we managed to donate a large box full of clothes to Manna Centre (London Bridge).
"Read All About It!" dance show (March 2013) also contributed to some charity organisations (Project Zimbabwe, GKT Rag, and Global Bridgate) through bucketing . Global Bridgate also kindly helped us out for a bar in the foyer. They raised approx. £500 by selling refreshments and drinks!
Salsa for Fulham Guides
KCL Dance Society organised a charity workshop with Fulham Guides.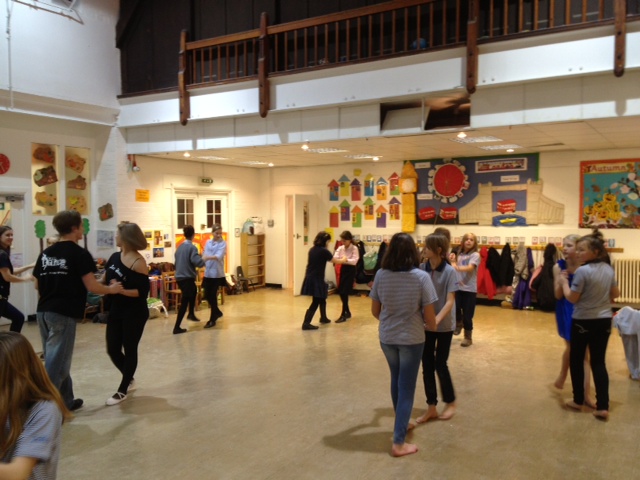 Fulham Guides is a weekly youth group based in All Saints Fulham Church.
Our former president in 2012/13 Natasha Rawling, and a passionate Latin dancer, and 2013/14 president Angus Perks,
taught beginners' latin dance for 20 girls aged between 10 – 13.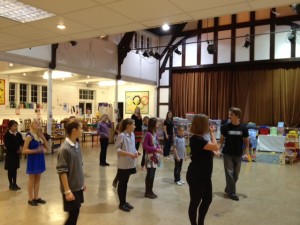 Here are some comments and feedback from participants:
"Fun, upbeat and quick"
Rosie aged 12
"Amazing. They should go on Strictly Come Dancing" Lilly aged 10
"Great Fun! 123…567"
Molly aged 12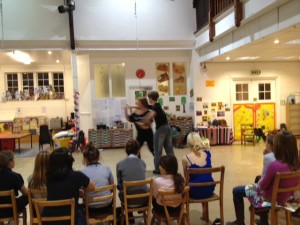 Most girls had no previous experience in dancing, but clearly both teachers and the girls had a great time together!