TERM 2 TIMETABLE!!
Due to rehearsals for our annual show (which this year is Wonderland), we have a revised timetable for this term.
Classes are still in West Wing, Guy's Campus, and start on Saturday 28th January. They cost £2 for paid members, (who can still buy discount cards), and £5 for non-paid members.
PLEASE NOTE: EVERYONE must have some form of Dance Soc membership in order to access West Wing building. This is a KCLSU policy, and MUST be obeyed. Please make sure you have either paid membership (£15), associate membership (£40), or non-paid membership (free). All can be bought/obtained from the KCLSU website.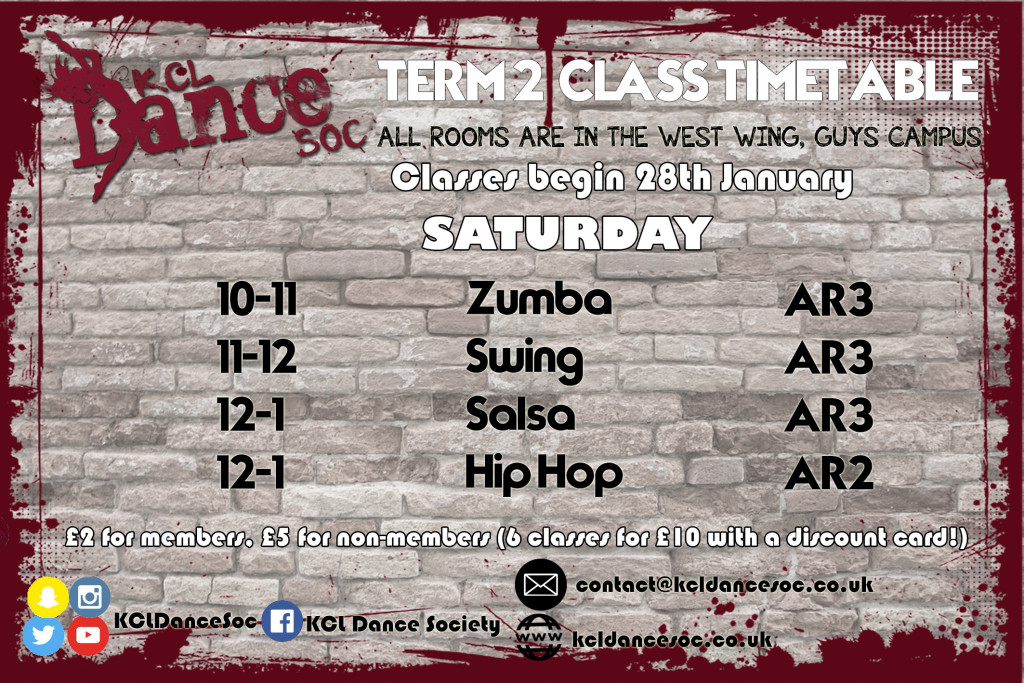 TERM 1 TIMETABLE!!
New year means new timetable!! We've got some great classes lined up, as well as some fabulous workshops. We've got all the classics, from salsa and hip hop to ballet and contemp – and new to us this year, commercial!
Classes are in West Wing, Guy's Campus (click here for more details), and start on Monday 26th September. They cost £2 for members, and £5 for non members – so make sure to purchase your membership here! Purchase our members discount card and get 6 classes for £10 (speak to any committee member at class).
For the first week we are offering a special discount: we're allowing all boys who attend a Salsa, Bachata, Swing, Ballet or Contemporary class, and any girl who brings them, to receive free admission!!
For those of you who can't wait that long, we've also got our free workshop day on Sunday 25th September. Keep watching this space for more details!